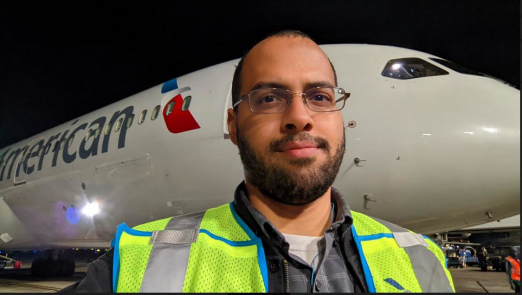 ** ADF JUNE 2022 MEMBER SPOTLIIGHT **
Jose Matos – American Airlines

------------------------------------------------------------------------------------------------------------------------------------------
The love of flying, a.k.a. the bug. If you're reading this, you are likely a happy victim of this lifelong
disease as well. I blame my father for my exposure... When I was five, he moved to the U.S. and started
working for Continental. I vividly remember watching planes taxi in at Las Americas International
(SDQ/MDSD), waiting for his flight to arrive. As soon as I saw that golden-tailed 727 pull up to the gate, I
was hooked.

After High School, I pursued a pilot career through San Jacinto College in Pasadena, TX and became part
of my first community of fellow AvGeeks. Organizations like Alpha Eta Rho and events including airshow
cookouts, aviation movie watch parties, and even the occasional airline tour or SIM ride provided
exposure to the common camaraderie among aviation fans. During ground school, some peers turned
me on to the dispatch courses offered to supplement my flight training. The instructors happened to be
lead dispatchers at ExpressJet and recommended I consider working there to get a foot in the door for
the airline.

One year and a fresh FAA certificate later, I officially entered the airline industry as a ExpressJet's newest
dispatcher. Starting in 2007, I was along for their adventures as a standalone airline, the recession, the
Skywest acquisition, and subsequent ASA merger and move to Atlanta. During that time, I worked as a
Dispatcher, relief ATC Coordinator, relief Hub Coordinator, and assisted in training new-hire dispatchers.
After a couple of years in Atlanta, my wife and I opted to move back to Houston to be closer to family.
The move marked a bittersweet departure from the airline industry and an exciting entry into the brave
world of Business and General aviation as part of Rockwell-Collins International Trip Support (now
Raytheon's ARINCDirect). For the next eight years or so, our team serviced pilots and flight departments
with everything from flight plans and weather to ground handling, fuel, slots, permits, hotels, customs,
and regulatory compliance. We had the honor of working alongside government agencies, corporate
flight departments, manufacturers, nonprofits, and even the occasional airline. Flight missions we
supported included humanitarian DC-3 ferries, a round-the-world SR-22 solo flight, delivering military
trainers to allied nations, demo flights of prototype aircraft, and transporting heads-of-state. Despite the
greatest peers and most exciting daily adventures any job could provide, my heart remained with airline
operations...

Then COVID. As countries began to shutter their borders, international business flights ground to a halt.
By May, we were informed our entire division would be dissolved by the end of summer. Coincidently,
with my family's support a couple of years prior, I began taking classes online to complete my bachelor's
degree with the intent of one day returning to airline operations. Two weeks after I became
unemployed, I graduated from LeTourneau University with a B.S. in Aviation Management.
By the end of 2020, I had a job offer as an Airport Operations manager at DFW for American Airlines,
where I was finally exposed to the behind-the-scenes organized chaos that is an active flight ramp at one
of the world's busiest airports. One year later, I was offered the chance to return to my roots and join
AA's latest dispatch class. And so, it came full circle: what started as a side-gig turned into a passion, and
the detours have only served to prepare me for the next step.
Outside of work, I enjoy working with my hands to help friends/neighbors and our local community,
participating with my children's homeschool group, and learning new things. There's an unexplainable
joy that comes from mastering a craft or learning a new skill (not so joyful when my 7-year-old continues
to outdo me on the piano, but I digress). Ultimately though, my faith and family remain my ultimate
passion. They define my true purpose and influence how I approach my job day-in and day-out: to serve
my peers and passengers with professionalism and care as a flight dispatcher.