** ADF APRIL MEMBER SPOTLIIGHT **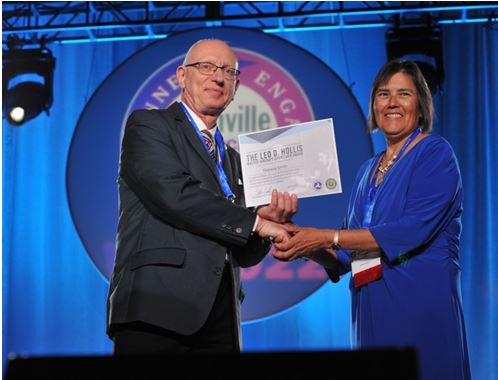 For the month of April, we would like to spotlight Theresa Smith.
On March 18, retired Flight Dispatch Instructor, Theresa Smith, was presented with the Leo D. Hollis Master Aircraft Dispatcher Award at the Women in Aviation International Conference.
This is the most prestigious award issued by the FAA to Aircraft Dispatchers. The award recognizes individuals who have exhibited professionalism, skill, and aviation expertise for at least 40 years while performing the duties of an Aircraft Dispatcher.
The award was presented to Theresa by Scott Stacy, Aviation Safety Inspector – Dispatch, Safety Standards, Air Transportation Division – AFS 200 and Gary Zeman, Director – Flight Dispatch.
Theresa is only the fourth recipient of this award and the first woman to be honored. The first to be honored was Leo D. Hollis himself, and the third honoree was United's own Gene Cameron.
-------------------------------------------------------------------------------------
I started in 1978 as a dispatch clerk, aka "weather clerk". Back in the day, we had 3 dispatch offices, down from six. We would distribute papers to the dispatchers and put together the flight plans and weather packages for the crews at the airport. I had an opportunity to complete the in-house dispatch training course, facilitated by DENTK.
I was the third female dispatcher at United Airlines. Women were not considered capable of doing the job. Once you were accepted as an assistant dispatcher, you worked one on one with the Dispatcher. As the dispatchers retired, you would move up by seniority from an assistant dispatcher to a dispatcher.
There were many turbulent times that we had to deal with, the fuel embargo in the late, 70's, deregulation, Patco strike, IAM strike, Alpa strike, ESOP, Bankruptcy and let's not forget the fire at Elk Grove Villiage. But there were also good things that happened. United was a domestic airline when I started, we did fly to Hawaii and the Caribbean. We started flying to Japan and China and expanded our reach by purchasing PanAm's European and South American routes. With Gene Cameron and Bob Roeder's work, we moved away from DC10's and DC8's and starting operating ETOPS and Polar operations. Making United more competitive. We went from 3 airport dispatch offices; IADDD, ORDDD & SFODD to a single office at Elk Grove Village.
I always raised my hand, in hopes to make things better. I was part of the original Workload committee, so many of us worked together with the DEC to leave the IAM and join PAFCA. I was a Union Stewart for both the IAM and PAFCA. I worked with Mary Ceglarek to set up the Department Summer picnics in Busse Woods. I worked with Patty Nicosia to host the Retirement Parties, this included, securing the Wings to the plaques for each retiree. We would have up to 200 people attend these parties.I worked with Nick Summers to get the wonderful pictures he took to give to the Retirees for a short time. Patty Nicosia and I worked with a group of Flight Officers to develop the Domestic Policy and the Single Segment Operation. I worked with the Heather Read, the Scheduling Manager to get everyone scheduled for Sabre Flight planning and Single Segment Dispatching, as well as work as an ADI to teach Sabre and SSD. After the merger with Continental and the move downtown, I wanted to continue to challenge myself. I became an FDI and worked with Mike Beck to fix the problem that prevented us access to CASS. Flight Operations always monitored and maintained control of CASS until Nathan Polderman and myself requested and were granted control over CASS for Dispatchers.
I learned so much over the years in the different projects I was fortunate to be involved with and hope I made a difference in a good way.

Congratulations Theresa!
***Each month ADF is looking to highlight a member. If you are interested in becoming an ADF spotlight please send us a a picture, and in a few sentences, why you love your job as a dispatcher. If selected, we will post on our social media sites.